Welcoming Diversity
Mekor Shalom Embraces Diversity...
Complete acceptance of all people: who they are, where they are, and who they may become is paramount.
Each person is created b'tzelem Elohim,
in the image of God.
Multi-faith and multi-racial households have a home at Mekor
Shalom.
LGBTQ+
individuals, couples, and families have a home at Mekor Shalom.
Jews of Color: Individuals, couples, and families have a home at Mekor Shalom.
People of every age and at every station in life have a home at Mekor Shalom.
This sacred community of sacred relationships accepts everyone and celebrates each person.
A synagogue must be a safe place for all who wish
to enter, participate, and join.
This must be true for everyone.
For more information about Keshet, please click here.
Sat, September 23 2023
8 Tishrei 5784
Upcoming Programs & Events
---
What Mekor Shalom Friends are saying...
"If you are unaffiliated in the Tampa Bay Area and looking to join the most welcoming, supportive, and encouraging synagogue family for worship, while inspiring you and your children to have a love of Judaism, look no further than Mekor Shalom."
Virtual Mekor Shalom
has weekly Shabbat services via Zoom and monthly also in person.
Congregation Mekor Shalom
(unless otherwise noted)
directions to Mekor Shalom.
Each person's presence matters.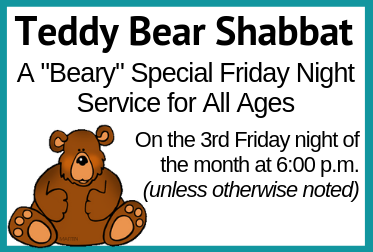 Teddy Bear Shabbat continues to be held via Zoom.
Sat, September 23 2023 8 Tishrei 5784