Adult Lifelong Learning
It's ALL...Adult Lifelong Learning...
At Mekor Shalom, Adult Lifelong Learning (ALL) is a vital piece of congregational life. Our Tradition teaches that we are to engage in learning all the days of our lives, hence the fitting acronym.
Classes and workshops are developed and offered to the congregation and community. The Adult Lifelong Learning Team welcomes your participation, suggestions, and ideas. Whether you would like to come and learn, organize, or teach, your presence matters.
To peruse the synagogue calendar for upcoming learning opportunities, please
click here
.
For more information, please call 813-963-1818.
Sat, September 23 2023
8 Tishrei 5784
Upcoming Programs & Events
---
What Mekor Shalom Friends are saying...
"If you are unaffiliated in the Tampa Bay Area and looking to join the most welcoming, supportive, and encouraging synagogue family for worship, while inspiring you and your children to have a love of Judaism, look no further than Mekor Shalom."
Virtual Mekor Shalom
has weekly Shabbat services via Zoom and monthly also in person.
Congregation Mekor Shalom
(unless otherwise noted)
directions to Mekor Shalom.
Each person's presence matters.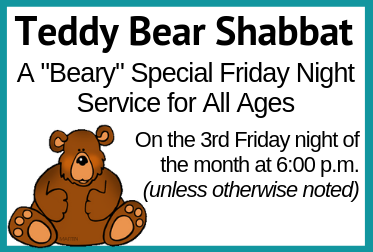 Teddy Bear Shabbat continues to be held via Zoom.
Sat, September 23 2023 8 Tishrei 5784