Ways to Give
Mekor Shalom appreciates each person's decision to support the efforts of this sacred community of sacred relationships.
The synagogue values highly all contributions, be they in-kind, volunteer hours, or financial.
Of course, the presence of each person is what matters most of all.
Make a donation to Mekor Shalom by clicking here.
Charitable contributions are customarily made on a number of occasions including:
In honor of or to express appreciation to someone

To celebrate a birth, naming ceremony, brit milah (ritual circumcision), birthday, bar/bat mitzvah, graduation, wedding, or anniversary

To send good thoughts and/or recovery wishes

In memory of one who has recently died or on the occasion of a yahrzeit (anniversary of a death)
Because the numerical equivalent of chai, the Hebrew word for life, is 18, donations are often made in multiples of $18.
A Voluntary Financial Commitment An annual membership contribution from each member household.
The Leaf-By-Leaf Project: With each $36 contribution to the Leaf-By-Leaf Project, a leaf is added to the Ark curtain.
The Hazzan's Discretionary Fund: Under the Hazzan's direction, contributions support charitable causes, synagogue projects and programs which require funding, scholarships, and occasional assistance for members in need.
The Mekor Shalom Fund: Contributions provide support for Mekor Shalom's general operating expenses.
The Security Enhancement Fund: Contributions go toward augmenting the congregation's security efforts.
The Torah Scroll Fund Contributions support maintenance of Mekor Shalom's Torah scrolls and ritual items and may, in the future, go toward the purchase of an additional Torah scroll.
The Youth Fund Contributions support programming and projects benefiting the youth of Mekor Shalom.
Donate now by clicking here.
Donations to Mekor Shalom help to develop further the connections between each person one to the other and to the teachings of our tradition.
If you have any questions about giving opportunities, please contact the synagogue at 813-963-1818 or
by email
.
Thank you for supporting Congregation Mekor Shalom.
Thu, December 7 2023
24 Kislev 5784
Upcoming Programs & Events
---
What Mekor Shalom Friends are saying...
"If you are unaffiliated in the Tampa Bay Area and looking to join the most welcoming, supportive, and encouraging synagogue family for worship, while inspiring you and your children to have a love of Judaism, look no further than Mekor Shalom."
Virtual Mekor Shalom
has weekly Shabbat services via Zoom and monthly also in person.
Congregation Mekor Shalom
(unless otherwise noted)
directions to Mekor Shalom.
Each person's presence matters.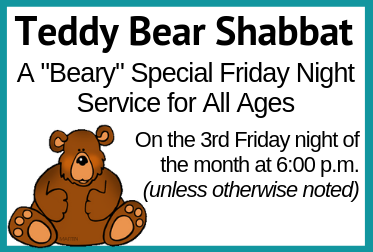 Teddy Bear Shabbat continues to be held via Zoom.
Thu, December 7 2023 24 Kislev 5784