B'nai Mitzvah at Mekor Shalom
A Journey of Meaning, Learning, & Smiling...
At Mekor Shalom, making sure that every bar/bat/b'nai mitzvah as well as each family has a positive Jewish experience is paramount.
Hazzan Sered-Lever teaches all bar/bat/b'nai mitzvah students. She strives to provide every student with a learning environment that facilitates their feeling encouraged, supported, and empowered as they go on this journey.
Mekor
Shalom and the
Hazzan
are committed to making sure that every bar/bat mitzvah student feels a deep sense of pride in their accomplishments and in their Judaism.
For a copy of Congregation Mekor Shalom Celebrates! A Bar/B
at Mitzvah Guidebook, please
click here
.
Mekor Shalom is pleased not to charge for bar/bat mitzvah preparation. A current Mekor Shalom membership is required.
For more information, please feel free to contact Hazzan Sered-Lever by phone at 813-963-1818 or by email.
Sat, September 23 2023
8 Tishrei 5784
Upcoming Programs & Events
---
What Mekor Shalom Friends are saying...
"If you are unaffiliated in the Tampa Bay Area and looking to join the most welcoming, supportive, and encouraging synagogue family for worship, while inspiring you and your children to have a love of Judaism, look no further than Mekor Shalom."
Virtual Mekor Shalom
has weekly Shabbat services via Zoom and monthly also in person.
Congregation Mekor Shalom
(unless otherwise noted)
directions to Mekor Shalom.
Each person's presence matters.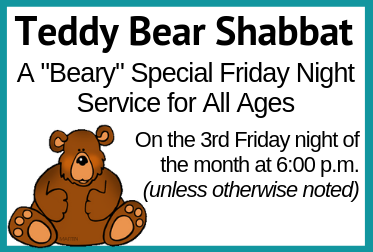 Teddy Bear Shabbat continues to be held via Zoom.
Sat, September 23 2023 8 Tishrei 5784