Board of Trustees
Meet the Board of Trustees...
Yael is a Realtor with Keller Williams Tampa Properties. A native of California, she and her family live in Lutz.
Andrea is a Servicing Unit Manager at Bank of America and proud mother of a teenaged son. Andrea, her husband, Barry, and their son, Tyler live in Tampa.
Larry Koppelman,
Treasurer
Larry is a retired techie. He and his wife, Wendy, are empty nesters and live in Lutz.
Dr. Jen Goldberg,
Immediate Past President
Jen is the rabbi of Temple Beth David in Spring Hill, FL. She is the parent of two children.
Steven A. Bernstein,
Trustee at Large/Fundraising Team Lead
Steve is married to Arlene Abrams-Bernstein. They are the parents of two grown sons.
Dr. Jennifer Denmon, Trustee at Large
Jennifer teaches high school students in Pinellas County. She, her husband, and their children live in Tampa.
Tracy Gold, Trustee at Large
Tracy is the Program Director at the University of Tampa Hillel. She and her family live in Tampa.
Wendy Koppelman, Trustee at Large
Wendy, a retired medical assistant, is married to Larry, Mekor Shalom's treasurer. In addition to having grown children, she and Larry have two grandchildren.
Paula S. Lewis, Trustee at Large
Originally from New York, Paula is an experienced office manager. She and her husband, Michael, live in Land O' Lakes.
Cindy Sherr, Trustee at Large
Cindy is an attorney and a Vendor Manager at JP Morgan Chase. She and her husband, educator Evan Statman, live in Lutz.
Tovah Zalasin, Trustee at Large
Tovah is a parent of three and has experience in a number of interesting industries.
Jennifer Velt, Mekor Shalom Religious School Team Lead
All of Mekor Shalom's board meetings
are open to all current members of the congregation.
Each person's input matters. Each person's presence makes a difference...
Thu, December 7 2023
24 Kislev 5784
Upcoming Programs & Events
---
What Mekor Shalom Friends are saying...
"If you are unaffiliated in the Tampa Bay Area and looking to join the most welcoming, supportive, and encouraging synagogue family for worship, while inspiring you and your children to have a love of Judaism, look no further than Mekor Shalom."
Virtual Mekor Shalom
has weekly Shabbat services via Zoom and monthly also in person.
Congregation Mekor Shalom
(unless otherwise noted)
directions to Mekor Shalom.
Each person's presence matters.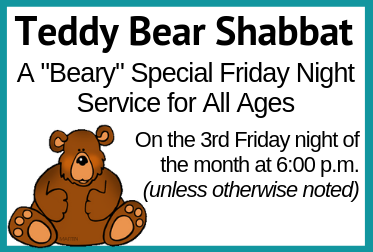 Teddy Bear Shabbat continues to be held via Zoom.
Thu, December 7 2023 24 Kislev 5784