Involvement
Involvement
Your Involvement Really Does Make A Difference...
Come and connect with friends at Mekor Shalom through the many teams, activities, and programs.
Here is a list of some of the ways to join in for children, young adults, and adults...
Board of Trustees: All current members are warmly welcomed at each board meeting.
Community Involvement: Social Action Team spearheads projects benefiting organizations in Tampa.
Fundraising Team: Help plan fundraising events to further the work of Mekor Shalom.
Look Who's Coming to Shabbat Team Helping to organize congregational Shabbat meals.
Mekor Tikvah (Source of Hope) Team: Lending a helping hand to friends in need.
Kiddush Team: Helping periodically with set up and clean up for the light lunch after Shabbat morning services.
Oneg Team: Helping periodically with set up and clean up for the light refreshments after Friday night services.
Publicity & Social Media Team: Helping to spread the word about Mekor Shalom.
Teddy Bear Shabbat: A "beary" joyful, monthly Friday night service for all ages.
Team Minyan: Helping to enhance this community building centerpiece of Jewish life.
Your presence is always welcome, and there is always room for you...
Ready to jump in or want to talk about jumping in? Have an idea to share?
Please be in touch: 813-963-1818.
Sat, September 23 2023
8 Tishrei 5784
Upcoming Programs & Events
---
What Mekor Shalom Friends are saying...
"If you are unaffiliated in the Tampa Bay Area and looking to join the most welcoming, supportive, and encouraging synagogue family for worship, while inspiring you and your children to have a love of Judaism, look no further than Mekor Shalom."
Virtual Mekor Shalom
has weekly Shabbat services via Zoom and monthly also in person.
Congregation Mekor Shalom
(unless otherwise noted)
directions to Mekor Shalom.
Each person's presence matters.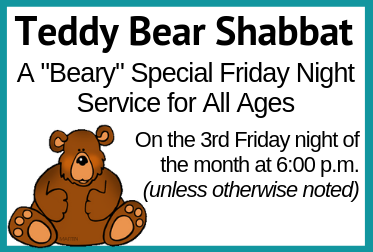 Teddy Bear Shabbat continues to be held via Zoom.
Sat, September 23 2023 8 Tishrei 5784