Finding Mekor Shalom:
Congregation Mekor Shalom
The synagogue is located in
The Commons Office Center in
Carrollwood. The building is located at Dale Mabry and Handy, close to the northeast corner.
From the Dale Mabry entrance to the property, please make a right once you are in the parking lot. The building will be on your right.
From Handy,
please turn onto Medical Drive to reach the front of the building. The building will be on your left.
There is a set of double doors that lead into the atrium of the building. Once you are inside, the shul is the last door on your left.
Connect with Mekor Shalom:
In person (It will be great to see you!) or
by mail:
14005A N. Dale Mabry Hwy Tampa, FL 33618
By phone: 813-963-1818
By email:
Sat, September 23 2023
8 Tishrei 5784
Upcoming Programs & Events
---
What Mekor Shalom Friends are saying...
"If you are unaffiliated in the Tampa Bay Area and looking to join the most welcoming, supportive, and encouraging synagogue family for worship, while inspiring you and your children to have a love of Judaism, look no further than Mekor Shalom."
Virtual Mekor Shalom
has weekly Shabbat services via Zoom and monthly also in person.
Congregation Mekor Shalom
(unless otherwise noted)
directions to Mekor Shalom.
Each person's presence matters.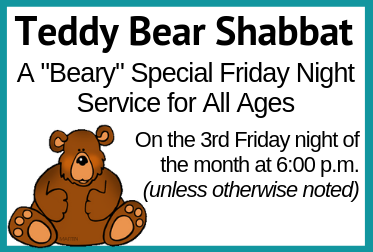 Teddy Bear Shabbat continues to be held via Zoom.
Sat, September 23 2023 8 Tishrei 5784