Community Involvement: Social Action Team Projects
Community Involvement: Social Action Team Projects
The Community Involvement: Social Action Team...
Join the Team and/or participate in any or all of the worthwhile projects that it spearheads.
Come be a part of Mekor Shalom's commitment to engage in acts of Tikkun Olam, Repairing the World. Your participation makes a difference!
Extra! Extra! Read All About It to Residents of Weinberg Village!
This program is currently on hold. Through the Community Involvement: Social Action Team (CI/SA), volunteers readi newspaper articles to Weinberg Village residents one Sunday a month, from 10:30 a.m. to 11:30 a.m.
Have questions? Please feel free to email Jim Jacobs.
Mekor Shalom's Ongoing TJFS Food Drive: Do You Have Any...?
Items always needed for clients of the food bank include peanut butter, dried beans, rice, tuna, and cereal and may be dropped off at Mekor Shalom.
Want to get involved? Interested in sharing ideas, suggestions, or questions? Super! Please be in touch!
Thu, December 7 2023
24 Kislev 5784
Upcoming Programs & Events
---
What Mekor Shalom Friends are saying...
"If you are unaffiliated in the Tampa Bay Area and looking to join the most welcoming, supportive, and encouraging synagogue family for worship, while inspiring you and your children to have a love of Judaism, look no further than Mekor Shalom."
Virtual Mekor Shalom
has weekly Shabbat services via Zoom and monthly also in person.
Congregation Mekor Shalom
(unless otherwise noted)
directions to Mekor Shalom.
Each person's presence matters.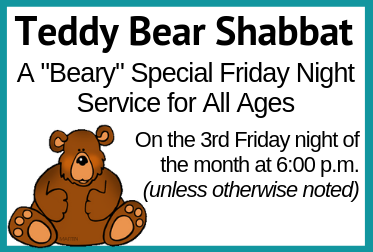 Teddy Bear Shabbat continues to be held via Zoom.
Thu, December 7 2023 24 Kislev 5784