Hazzan Sered-Lever
Meet Mekor Shalom's Hazzan...
In a world where people are constantly on the go or in a rush, Hazzan Sered-Lever is well-known for giving people her undivided, focused attention—whether it's after a service or at the produce section at Fresh Market on a Friday afternoon.
A native of Wilmette, IL, Hazzan Jodi M. Sered-Lever
(she/her/hers) earned a B.A. from Columbia University in New York and a B.A. from the Albert List College of Jewish Studies at the Jewish Theological Seminary in New York.
She subsequently received her investiture from the H.L. Miller Cantorial School at JTS. She also holds an M.A. in Jewish Education from the William Davidson Graduate School of Education at JTS.
She participated in the 2018 and 2019 Kenissa Cross-Trainings for Emergent Jewish Communities and a National Consultation (2019 Cohort).
Through her interactions, Hazzan Sered-Lever strives to make sure that each person knows that they are cared about, and that what each person thinks and how they feel are valued.
Every individual is created b'tzelem Elohim, in the image of God.
Each one of us deserves to experience that Divine spark from within and feel it radiate back from those around us.
She is passionate about building a community of sacred relationships. She believes that creating a community where people introduce themselves to each other and come to know one another is the beginning. Next, relationships grow and develop. At the same time, everyone appreciates there is always room for more people so the cycle begins again with each new connection. The beauty is in the weaving of the presence of each person into the communal tapestry.
Hazzan Sered-Lever has served the Tampa Jewish community since 2006. Prior to coming to Florida, she served congregations in North Brunswick, NJ and Kansas City, MO.
Hazzan Sered-Lever participates enthusiastically in the larger Jewish community. She has served on the Board of Directors of Tampa Jewish Family Services since 2007. She completed a two-year term as President of the TJFS Board of Directors and is now the Immediate Past President.
She also serves on the Executive Council of the Cantors Assembly.
For several years, Hazzan Sered-Lever participated in the Jewish Community Center Preschool's Friday morning Shabbat program on a monthly basis. She has enjoyed singing on occasion for the residents of Weinberg Village. Hazzan Sered-Lever appreciates the opportunity to be a part of the clergy rotation at Hillel Academy, teaching periodically during the Thursday morning tefillot (prayers). She is an active participant in the Bay Area Cantorial Association.
A stalwart fan of all of her Chicago sports teams, Hazzan Sered-Lever is married to Rabbi Aaron M. Lever. Rabbi Lever, also a JTS graduate, is a Board Certified Chaplain and serves as the Director of Spiritual Care at Menorah Life. They are the proud and blessed parents of a daughter, Shayna Sered-Lever, a graduate of Hillel Academy.
Fri, March 24 2023
2 Nisan 5783
Upcoming Programs & Events
---
What Mekor Shalom Friends are saying...
"If you are unaffiliated in the Tampa Bay Area and looking to join the most welcoming, supportive, and encouraging synagogue family for worship, while inspiring you and your children to have a love of Judaism, look no further than Mekor Shalom."
Virtual Mekor Shalom
has weekly Shabbat services via Zoom.
Congregation Mekor Shalom
(unless otherwise noted)
directions to Mekor Shalom.
Each person's presence matters.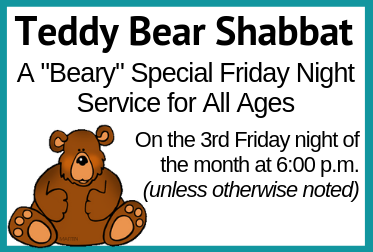 Teddy Bear Shabbat continues to be held via Zoom.
Fri, March 24 2023 2 Nisan 5783