Joining Mekor Shalom
Joining Mekor Shalom
A sacred community of sacred relationships
where people care about people.
Come be connected, be accepted, and be inspired...
Mekor Shalom provides:
A comfortable, non-judgmental, Jewish spiritual home for individuals of all ages and families to join for the first time in years or ever
Complete respect and appreciation for each person
Opportunities to connect and socialize for adults and for children
Full service Religious School with master's degree level educators
Bar/Bat Mitzvah training without a fee
ALL (Adult Lifelong Learning) classes
Teams in lieu of committees, you're invited to join any, at any time
Shabbat & holiday services & lifecycle events
Mekor Shalom is proud to be the first congregation in Tampa to implement a Voluntary Financial Commitment in lieu of other more commonly used dues structures. At Mekor Shalom, you make a personal decision as to how much you are able to invest in your synagogue, really.
---
If you wish to speak with Hazzan Sered-Lever about membership, please click here or call 813-963-1818.
To sign up to receive the the e-newsletter Mekor Shalom Connects, please click here.
---
Ready to join Mekor Shalom? That is fantastic!
includes the Connections Form and Voluntary Financial Commitment Form. Then send everything in to:
Congregation Mekor Shalom
Your presence matters, and your participation makes a difference...
Fri, June 2 2023
13 Sivan 5783
Upcoming Programs & Events
---
What Mekor Shalom Friends are saying...
"If you are unaffiliated in the Tampa Bay Area and looking to join the most welcoming, supportive, and encouraging synagogue family for worship, while inspiring you and your children to have a love of Judaism, look no further than Mekor Shalom."
Virtual Mekor Shalom
has weekly Shabbat services via Zoom.
Congregation Mekor Shalom
(unless otherwise noted)
directions to Mekor Shalom.
Each person's presence matters.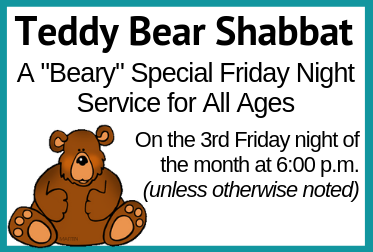 Teddy Bear Shabbat continues to be held via Zoom.
Fri, June 2 2023 13 Sivan 5783