Community
Rabbi Hillel taught:
Do not separate yourself from the community.
Congregation Mekor Shalom is committed to fostering a strong connection to the greater Tampa Jewish community...
With that concept in mind, if you have an event, fundraiser, or something else that the Mekor Shalom community might want to know about, please be in touch.
You may even see your idea posted on the Mekor Shalom website or the weekly e-newsletter, Mekor Shalom Connects.
Sat, September 23 2023
8 Tishrei 5784
Upcoming Programs & Events
---
What Mekor Shalom Friends are saying...
"If you are unaffiliated in the Tampa Bay Area and looking to join the most welcoming, supportive, and encouraging synagogue family for worship, while inspiring you and your children to have a love of Judaism, look no further than Mekor Shalom."
Virtual Mekor Shalom
has weekly Shabbat services via Zoom and monthly also in person.
Congregation Mekor Shalom
(unless otherwise noted)
directions to Mekor Shalom.
Each person's presence matters.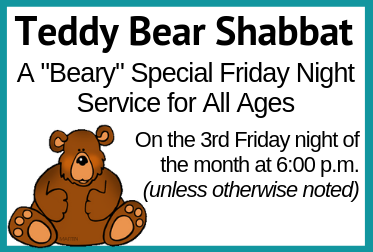 Teddy Bear Shabbat continues to be held via Zoom.
Sat, September 23 2023 8 Tishrei 5784