Kosher in Tampa
Kosher in Tampa
Keeping kosher in Tampa creates an opportunity to frequent and support various vendors in the area that carry kosher provisions.
Whether it be kosher cheese or a first cut brisket that is needed, the Tampa Bay area has just about anything one may want.
To help everyone find kosher items (especially hard to find ones), below is a list of merchants that service the kosher consumer. Have a suggested addition or a question? Please be in touch...
Of course, Congregation Mekor Shalom maintains a strictly kosher kitchen, so there is always a kosher facility in Carrollwood right at the shul. For more information on kashrut at Mekor Shalom that includes recommended kosher certification symbols, please click here.
---
Kosher Specialty Proprietors in Tampa Bay:
Kosher Kaddy
No storefront here. But Kosher Kaddy delivers the finest kosher meats as well as less commonly found grocery items including fish, frozen pizza, and kosher cheeses directly to your door.
The site is a secure and safe place to shop, easy to navigate, and allows you to purchase the finest kosher meats from the comfort of your home. Kosher Kaddy serves both individual customers and a large wholesale market. All of the products on the site adhere to the strictest of rabbinical supervision guidelines.
Jo-El's
2619 23rd Avenue N., St. Petersburg
Jo-El's is not the kind of place you just run into. A little hard to find the first time, but certainly worth the trouble.Started in a 4 car garage in Gulfport more than 31 years ago, Jo-El's Kosher Deli, Market and Cafe is a family owned and operated business with a comfortable, warm, friendly, casual atmosphere.
Jo-El's carries fresh and frozen kosher meat and poultry and is a full-service kosher grocery store. In addition to off-site catering, there is a spot to dine-in.
---
Supermarkets & Boutique Grocers with Substantial Kosher Offerings:
BJ's Wholesale
7651 W. Waters Avenue, Tampa
The store also carries a good deal of assorted kosher products, including specialty items like cheese. It also has a bakery, with an extensive array of both pareve and dairy items.
Publix in Carrollwood
13178 North Dale Mabry Highway
Publix carries packaged, fresh kosher chicken and meats, and also a nice selection of frozen Meal Mart and Empire items. Publix also has a whole section of packaged kosher items.
Whole Foods Tampa
3802 Northdale Blvd. Tampa
Carries Kosher Valley, a line of packaged, fresh, kosher chicken and turkey. Kosher Valley's antibiotic-free kosher line is one of the first of its kind in the United States.
Trader Joe's
3808 W. Swann Avenue, Tampa
Trader Joe's carries many kosher items, including hallah and packaged, kosher meats and poultry.
Winn Dixie Hyde Park
2100 W. Swann Avenue, Tampa
Carries a wide variety of kosher cheeses and dairy products, different kinds of fresh, packaged meat & poultry, and packaged bakery items. Extensive dry goods section and frozen section.
Winn Dixie Northdale
15692 N Dale Mabry Hwy
, Tampa
Carries a wide variety of kosher cheeses and dairy products, different kinds of fresh, packaged meat & poultry, and packaged bakery items. Extensive dry goods section and frozen section.
Super Target
11627 W. Hillsborough Avenue Town 'n' Country
Has assorted refrigerated (not frozen) packaged deli meats, fresh chicken and fresh ground meats.
---
Kosher Catering
Tampa Airport Marriott
4200 George J. Bean Parkway Tampa
Glatt kosher catering as well as prepared meals for an individual or small group/family of fewer than ten people. Orders are placed and then available for pick-up.
Please note that all information regarding kosher establishments provided on this site is deemed reliable but is not guaranteed and should be independently verified.
Thu, December 7 2023
24 Kislev 5784
Upcoming Programs & Events
---
What Mekor Shalom Friends are saying...
"If you are unaffiliated in the Tampa Bay Area and looking to join the most welcoming, supportive, and encouraging synagogue family for worship, while inspiring you and your children to have a love of Judaism, look no further than Mekor Shalom."
Virtual Mekor Shalom
has weekly Shabbat services via Zoom and monthly also in person.
Congregation Mekor Shalom
(unless otherwise noted)
directions to Mekor Shalom.
Each person's presence matters.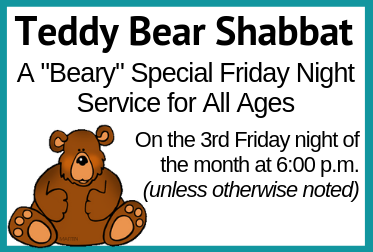 Teddy Bear Shabbat continues to be held via Zoom.
Thu, December 7 2023 24 Kislev 5784