Mekor Shalom's Frequent Chaier Program
Mekor Shalom's Frequent Chai-er Program
MEKOR SHALOM FREQUENT CHAI-ER PROGRAM
It's pronounced "Chai"-er or "higher."
Welcome to the MEKOR SHALOM FREQUENT CHAI-ER PROGRAM! It's similar to frequent flyer programs or other reward programs, but this one is designed specifically for Mekor Shalom and is believed to be the first of its kind in a synagogue setting.
Why the program was created. Everything about this synagogue aims to break the mold and turn on its head the same old, same old synagogue paradigm. The goal is 100% participation from congregants in everything area. It is understood that some friends have limited funds, so the MEKOR SHALOM FREQUENT CHAI-ER PROGRAM provides a way for any household to earn MEKOR SHALOM FREQUENT CHAI-ER points that they can use to offset costs for events.
Instead of having to spend money to attend a program or event for which there is a charge, just earn some points! Attend a few services or volunteer for something, and then use your Frequent Chai-er points. Simply:
The MEKOR SHALOM FREQUENT CHAIER PROGRAM is designed to boost engagement among congregants and create a "win-win." Furthermore, Mekor Shalom recognizes while not everyone has money to give, everyone has value. In fact, this program rewards you for being you and just for being present!
Earn points for participating. You participate big, you receive big points! You participate a little bit, you receive fewer points. You don't participate at all, and not only do you miss out out, but you also miss out on earning points.
These points are as good as cash within Mekor Shalom. As a member of Mekor Shalom, your household is automatically enrolled in the MEKOR SHALOM FREQUENT CHAI-ER PROGRAM.
Here's how it works. Every Mekor Frequent Chai-er point you earn is worth $1 (ONE DOLLAR). Attending a Friday night or Shabbat Service is worth two points (M2) for each household member thirteen (13) and over for males and male-identifying; twelve (12) and over for females and female-identifying. If you are a household of four, and you all count, that's 8 points (M8), equivalent to $8. Cool, isn't it?
How to earn points. Earning points in the MEKOR SHALOM FREQUENT CHAI-ER PROGRAM is simple. Each Mekor Frequent Chai-er point (M1) is currently worth $1.
In other words, M1 = $1.
Attend a service = 2 points (M2) per member of each household. (13 and over for males; 12 and over for females)
Shiva Minyan = 4 points (M4) per household
Volunteer for an event/community meal = 2 points (M2) for each duty
Participate as a part of a team = 5 points (M5) for taking on the additional leadership responsibility
Double and triple points. There will be events and circumstances which provide you an opportunity to receive double and triple points, bringing you that much closer to earning a complimentary lunch or an entrance fee. See how fun this can get?
How to use your Mekor Frequent Chai-er Points. Your points are currency at Mekor Shalom. Cash them in to pay for community lunches or events. You may use them to pay for everything except your membership commitment. You can even donate them! (See How to donate Frequent Chai-er points).
Tracking your points. For advanced and as trend-setting as the MEKOR SHALOM FREQUENT CHAI-ER PROGRAM may sound, tracking your points is rather simple and unsophisticated. But effective. It's the honor system.
How to pay with points. If you want to pay for something with points, please call or email the Mekor office to share for which program or event you would like to redeem points. You may also use Mekor Frequent Chai-er points to offset costs. It's possible to pay for an event using part Mekor Frequent Chai-er points and part cash.
How to donate Frequent Chai-er points. If you don't need or want your points, you can donate them back by notifying Hazzan Sered-Lever. You can donate them as you earn them, or whenever you want. If a person or household is in need, those points can be used to help those who are, in certain cases, unable to earn their own points. Remember: the purpose of this is to get 100% participation.
Promoting the program. Each flyer or ad that you see on Facebook or on our website will now include something like $13/M13 for adults. The MEKOR SHALOM FREQUENT CHAI-ER PROGRAM will be promoted as often as possible for maximum participation.
Congregation Mekor Shalom reserves the right to change terms and conditions of the Frequent Chai-er Program at any time and in any way (including the right to discontinue or change the benefits earned under the Frequent Chai-er Program, or to adjust the number of Mekor Frequent Chai-er points earned for any activity).
Sat, September 23 2023
8 Tishrei 5784
Upcoming Programs & Events
---
What Mekor Shalom Friends are saying...
"If you are unaffiliated in the Tampa Bay Area and looking to join the most welcoming, supportive, and encouraging synagogue family for worship, while inspiring you and your children to have a love of Judaism, look no further than Mekor Shalom."
Virtual Mekor Shalom
has weekly Shabbat services via Zoom and monthly also in person.
Congregation Mekor Shalom
(unless otherwise noted)
directions to Mekor Shalom.
Each person's presence matters.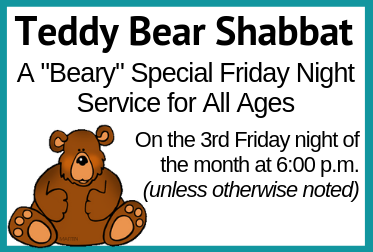 Teddy Bear Shabbat continues to be held via Zoom.
Sat, September 23 2023 8 Tishrei 5784