Virtual Mekor: Challah Braiding
Friday, October 30, 2020
•
12 Cheshvan 5781
5:00 PM - 5:45 PM
Virtual Mekor via Zoom
Several hours in advance of the Challah Braiding workshop, prepare the dough with the following instructions:
Combine yeast and water and stir gently.

Let this mixture sit for 5-10 minutes until bubbly.

Add in remainder of ingredients.

Mix by hand or by stand mixer with dough hook attachment until dough forms a smooth ball (if the dough feels too sticky, add in additional flour one tbsp at a time).

Spray a large bowl and place dough inside of it, cover with a towel and let it sit in a warm area of your kitchen.

After dough doubles in size (about an hour and a half later), split dough into two even pieces.
Take each piece and split again into 3 pieces each (you should now have 6 pieces).

Roll each piece into long strands of equal length, about 12 inches long.

Braid 3 strands together. Repeat for other pieces.

Place each braided loaf on a parchment paper covered baking sheet and cover again for 30 minutes.

Preheat oven to 350 degrees after you cover dough.

Whisky remaining egg and, using a pastry brush (or a piece of paper towel balled up), gently brush egg wash over each challah.

Bake for about 30 minutes or until challah is cooked through.
For the Zoom link please send a message.
Share Print Save To My Calendar
Mon, November 30 2020
14 Kislev 5781
Upcoming Programs & Events
---
What Mekor Shalom Friends are saying...
"If you are unaffiliated in the Tampa Bay Area and looking to join the most welcoming, supportive, and encouraging synagogue family for worship, while inspiring you and your children to have a love of Judaism, look no further than Mekor Shalom."
Virtual Mekor Shalom
has weekly Shabbat services via Zoom.
Congregation Mekor Shalom
(unless otherwise noted)
directions to Mekor Shalom.
Each person's presence matters.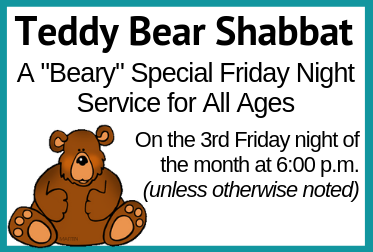 Mon, November 30 2020 14 Kislev 5781