Mekor Shalom Youth (MSY)
Mekor Shalom Youth (MSY)!

Calling All 6th-8th Graders for MSY
(Mekor Shalom Youth)!
What's It All About?
Please come join in for friendship and fun and participate in the Mekor Shalom Youth Group!
Get involved to have a chance to offer programming ideas, plan events, meet and connect with Jewish tweens and teens in the area!
Who's Involved?
MSY is a leadership development based youth program .
Teens have the opportunity to direct and orchestrate the programming and have a fantastic time in the process.
Enthusiasm is contagious, catch it!
Sun, January 29 2023
7 Shevat 5783
Upcoming Programs & Events
---
What Mekor Shalom Friends are saying...
"If you are unaffiliated in the Tampa Bay Area and looking to join the most welcoming, supportive, and encouraging synagogue family for worship, while inspiring you and your children to have a love of Judaism, look no further than Mekor Shalom."
Virtual Mekor Shalom
has weekly Shabbat services via Zoom.
Congregation Mekor Shalom
(unless otherwise noted)
directions to Mekor Shalom.
Each person's presence matters.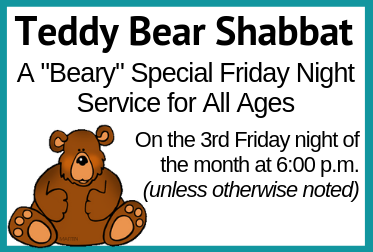 Teddy Bear Shabbat continues to be held via Zoom.
Sun, January 29 2023 7 Shevat 5783