Connect with the High Holidays and Mekor Shalom
Congregation Mekor Shalom Is
Tampa's 5780 High Holidays Headquarters
At Mekor Shalom each one of us is welcomed and celebrated for who we are...
On this page:
How to be a part of the High Holiday experience
with Mekor Shalom:
​

How to participate as a guest. Members are all set.
Participate in the Mekor Shalom Community Lunch by advance reservation after services on the 1st day of Rosh Hashanah.
See Complete Service Schedule including locations.
People of the Book: Recommended Book Titles to bring to read at Services (Really!)
---
How can I participate as a
guest
?
Mekor Shalom is delighted to connect with guests and visitors for the High Holidays.
For a $72 suggested High Holiday Seating Donation per adult, High Holiday tickets are available for all services for Rosh Hashanah and Yom Kippur.
---
What about dependent children, dependent adults,
& students?
While there is a suggested donation for adults, there is no need to make such a donation for children, students, and dependent adults unless you would like to do so. Everyone is welcome.
Children are encouraged to bring old school, low tech toys and games to services and enjoy being a part of things.
Everyone is welcome to bring a good book along to enhance your High Holiday experience and take in the atmosphere of the service.
---
For members and for guests: How does everybody get their tickets?
Just like the airlines, Mekor Shalom sends High Holiday E-Tickets.
It will arrive in your inbox and include the names of the adults in the household and have the entire service schedule on it.
You just print it out and bring it with you!
---
Round Challah Days Services!
---
Pray Then Stay for Lunch!
Advance reservation and registration required.
There is a set charge per person for this lunch.

​
Reserve your seat(s) for the Mekor Shalom Community Lunch here.
---
I'm considering a Mekor Shalom membership.
What's involved?
Mekor Shalom would be thrilled for you to be connected, be accepted, and be inspired as a member!
For more information on becoming a member, including about the Voluntary Financial Commitment, please click here.
---
I have more questions. Any suggestions?
Absolutely! Please feel free to call Mekor Shalom at 813-963-1818 or be in touch via email.
---
Your Itinerary for the High Holidays
Service Schedule (Please note locations):
Saturday night, September 21 at 9:00 p.m. Selihot service at Mekor Shalom
Rosh Hashanah:
Sunday evening, September 29 at 6:30 p.m. Erev Rosh Hashanah service at Mekor Shalom
Monday, September 30
9:00 a.m. Rosh Hashanah First Day services at the Carrollwood Country Club 13903 Clubhouse Dr. Tampa, FL
1:00 p.m. Tashlikh service outside the Carrollwood Country Club after services
Tuesday, October 1
9:00 a.m. Rosh Hashanah Second Day services at Mekor Shalom
Yom Kippur:
Tuesday, October 8 at 7:00 p.m. Kol Nidrei service at the Carrollwood Country Club 13903 Clubhouse Dr. Tampa, FL
Wednesday, October 9
9:00 a.m. Yom Kippur services including Yizkor prayers at the Carrollwood Country Club 13903 Clubhouse Dr. Tampa, FL

5:15 p.m. Minha, Ma'ariv, & Neilah at Mekor Shalom

7:50 p.m. Shofar Blast followed by a communal break fast
All children & adults who have their own shofar are invited to bring it over to the shul for the end of the fast.
The service begins at 5:30 p.m. with the Shofar Blast scheduled for 7:50 p.m.
---
People of the Book: Recommended Book Titles for Services
Hazzan Sered-Lever is pleased to recommend some book titles that you may want to purchase or to check out of your local library to have with you at services:
Your Guide to the Jewish Holidays: From Shofar to Seder by Cantor Matt Axelrod

Saying No and Letting Go: Jewish Wisdom on Making Room for What Matters Most by Rabbi Edwin Goldberg

Jewish Spiritual Parenting: Wisdom, Activities, Rituals, & Prayers for Raising Children with Spiritual Balance and Emotional Wholeness by Rabbi Paul Kipnes & Michelle November
Surviving Your Bar/Bat Mitzvah: The Ultimate Insider's Guide by Cantor Matt Axelrod

Making Prayer Real: Leading Spiritual Voices on Why Prayer is Difficult and What to Do About It by Rabbi Mike Comins

Revolution of the Jewish Spirit: How to Revive Ruakh in Your Spiritual Life, Transform Your Synagogue, & Inspire Your Jewish Community by Rabbi Baruch HaLevi, DMin & Ellen Frankel, LCSW

Hope Will Find You: My Search for the Wisdom to Stop Waiting and Start Living by Rabbi Naomi Levy

Everything On It by Shel Silverstein
Prayer and Penitence: A Commentary on the High Holy Day Machzor by Rabbi Jeffrey M. Cohen

Jewish Guided Imagery by Rabbi Dov Peretz Elkins

The Year Mom Got Religion: One Woman's Midlife Journey Into Judaism by Lee Meyerhoff Hendler

The Bridge to Forgiveness: Stories and Prayers for Finding God and Restoring Wholeness by Rabbi Karyn D. Kedar

High Holiday Stories: Rosh Hashanah & Yom Kippur Thoughts on Family, Faith, & Food by Nancy Rips

The 7 Questions You're Asked In Heaven: Reviewing & Renewing Your Life On Earth by Dr. Ron Wolfson, PhD
Please feel free to bring a paper book or two along with you to services to enhance your experience. Really!
---
Mon, June 1 2020
9 Sivan 5780
Mekor Shalom
has Shabbat services weekly.
Congregation Mekor Shalom
(unless otherwise noted)
directions to Mekor Shalom.
Each person's presence matters.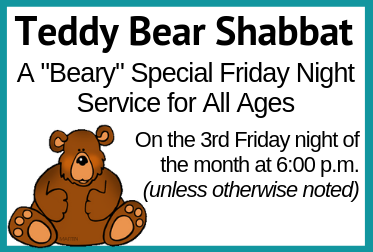 Upcoming Programs & Events
---
What Mekor Shalom Friends are Saying...
"If you are unaffiliated in the Tampa Bay Area and looking to join the most welcoming, supportive, and encouraging synagogue family for worship, while inspiring you and your children to have a love of Judaism, look no further than Mekor Shalom."
Mon, June 1 2020 9 Sivan 5780